SHARING HAPPINESS  THROUGH OUR SNACKS : )
MAPROW COCONUT CHIPS combines the best selected premium coconuts with our special ingredients. MAPROW COCONUT CHIPS is a great tasty and healthy snack for everyone. Our Coconut Chips are toasted to perfection without using any oil so they contain no TRANS-FAT or CHOLESTEROL. MAPROW COCONUT CHIPS can be eaten alone as a snack or put in a fresh salad or soup or you top it on your favorite yoghurt or ice-cream.
Our Coconut Chips are guaranteed that no chemical involved. We are demonstrated with SGS Thailand, the world's leading inspection, verification, testing and certification company.
Our Coconut chips
Real Coconut
No Cholesterol
Vegan
No preservative
Gluten-free
No GMO
No MSG
No Color and Artificial Flavor
STAY HEALTHY AND TASTY WITH US!

Original Flavor
Simply plain coconut taste with natural sweet and a drop of salt.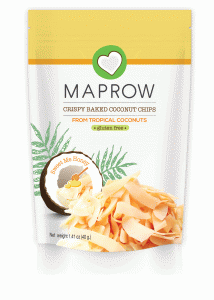 Sweet me Honey
With the aromatic flavor of honey combined with our natural coconut chip, to make the taste even more delicious!

Tom Yum
All-time Thai favorite dish, blending its taste with our coconut chips will give you even more delicious hot&sour snacks that you can't let go!
Wasabi
Hot and spicy of tranditional Japanese taste mixed with our natural coconut chips will make your mouth craves some more.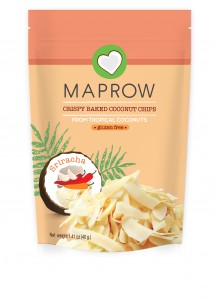 Thai Spicy Sriracha
One of the Most Popular Thai Spicy Sauce from around the world mixing with gentle sweetness from our coconut chips will make you feel absolutely right! Our secret homemade recipe of Thai Spicy Sriracha sauce brings out the taste of W'onder of Thailand.
Coming Soon
Thai-Sweet chili
Bringing Thai Signature Flavor with mild sweet red chili and garlic together with our coconut chip to give you a sensational sweet sassy taste.
NUTRITION FACTS
       ORIGINAL                   HONEY                      TOMYUM
For more details on ingredients and specification, please contact to this email:
numpueng.tan@madebymaprow.com